Opera
From Compsci.ca Wiki

Opera is a web browser developed by Opera Software, based in Oslo, Norway, which has a built in e-mail and IRC client. It runs on a variety of operating systems, which include: Microsoft Windows, Mac OS X, Solaris SPARC, FreeBSD i386 and GNU/Linux systems that use the SPARC, i386 and PowerPC architectures. It can also be run on mobile phones, smartphones and Personal Digital Assistances (PDA's).
Opera is now free of charge for desktop versions, but the mobile versions require a fee. There are trials versions available.
Features
As of version 9, the Opera suite consists of:
Web browser
Email client
News client
News aggregator
Address book
IRC client
Download manager
Widgets support
Bittorrent Client
Source Viewer
Tabbed Browsing
Surf the web easier and faster by opening multiple webpages in the same window.
Pop-up Blocking
Opera allows you to control whether you want all pop-ups blocked, or only the ones you've requested.
Sessions
Save all the your open pages as a session to be opened at a later time or start those pages you had last open before Opera closed.
Password Manager
Remembers your usernames and passwords so you don't have to.
Download Manager
Allows the user to list, pause, resume, restart or stop the downloading files. It keeps a history of recently downloaded files, and allows opening of the files from inside Opera.
Standards
Opera has supported CSS since version 3.5. Version 7.0 brings out the faster and more powerfull Presto layout engine. It has all the support of the older Elektra layout engine, but with almost full support for the HTML Document Object Model (DOM).
E-Mail and Online Chat
The built in E-mail client has support for POP, SMTP, and IMAP. In addition to its newsreader and newsfeed reader for RSS and ATOM, as well as an IRC client.
Acid 2 Test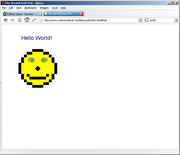 As of the Opera 9 Beta build release (Windows Build 8265, Macintosh Build 3264, UNIX Build 145) of Friday March 10, 2006, Opera passes the Acid2 test.
While Opera is not the first browser to pass the test, it is the first multiOS browser to pass the acid2 test.
Goto the Acid2's Wikipedia entry for more information.
Versions
Current
Current version numbers of Opera for the US English Version
Weekly Releases
On February 13, 2006, Opera began releasing a new weekly build every Friday. Mid-week builds before Friday are released every so often. The weekly builds are for Windows, Mac, Linux, FreeBSD.
Nintendo Wii
It was confirmed that Opera would release a browser exclusively for the Wii, Nintendos upcoming video game console. Not many details have been released, but it is confirmed that the browser will be similar to that of Opera on a PC and will be taking advantage of Wii's inovative controller.
External Links